Training
Update 26-Jun-2017
As of June 26th, the Monday evening Road session switches from the Mardyke-Western Road to Curraheen Park. That's way out west by Curraheen Park Greyhound Stadium in Bishopstown on the No.8 bus route. The Monday session will stay at Curraheen until the clocks go back at the end of October. The Wednesday, Thursday and Friday evening sessions will continue as outlined below. If you are interested in joining St. Finbarr's A.C., why not come along for a test drive! We'll be more than happy to answer your queries and offer you advice. Otherwise , please contact Dan Kennedy (0872136827) for more information.
Mondays, 6.15pm
Assemble at the top (West) end of Mardyke Walk as shown on the map below. For location information, paste LAT/LON coordinates 51.893954N, 8.502560W into the Google Maps search box and hit enter. The Monday evening session involves one or two 6km circuits of the Carrigrohane (Straight) Road. All those attending the Road Session MUST wear a high visibility vest – no exceptions!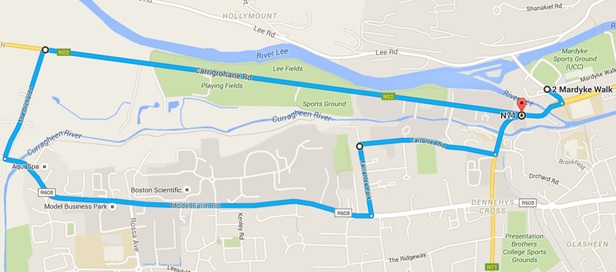 This is an unstructured road run suitable for people of all levels from Fit4Life enthusiasts to seasoned competitors. Basically, everybody goes off at their own pace and nobody gets left behind. For beginners, we recommend this session to start off with. Just come along to the barrier at the top end of Mardyke Walk and look for the committee member in charge. You can give us a test drive without any obligation. And if you want to join the club, you'll find an entry form on the website. Club members assemble at the barrier from 6pm to conduct warm-up exercises.
At 6.15pm, the group heads off on the first 6km circuit.  After one circuit, we'll pause at the pink marker and wait for any stragglers (another chance to do some exercises). At this juncture, you're free to embark on a second lap or return to Mardyke Walk. If you choose the latter option, you can finish up or exercise until the main group returns. If you miss the start of the session, you can try catch up with the back markers or go around in the opposite (clockwise) direction to meet up with the main group.
Wednesdays, 6pm
UCC Mardyke Track. Interval & speed work session with Fergus O'Donovan & Marion Lyons.
Thursdays 6.30pm
Blarney Running & Walking Trail. Paste coordinates 51.932244N, 8.556449W into Google Maps and hit enter. Hills & Interval miles with Dan Kennedy & Marion Lyons. This venue offers genuine trail running in a cross country setting. Entry is €3 with complimentary refreshments. All members are welcome to join in. For further information, click on the link below.
Blarney Running & Walking Trail
Fridays, 6pm
UCC Mardyke Track. Tempo sessions with Ken Devine.