Training
Mondays, 6.15pm
Assemble at the top (West) end of Mardyke Walk as per the map below. For location information, paste coordinates 51.893954N, 8.502560W into your Google Maps search box and hit enter. This session involves one or two 6km circuits of the Carrigrohane Road and Model Farm Road. All those attending the Monday evening Road session MUST wear a high visibility vest and we strongly recommend light colored clothing.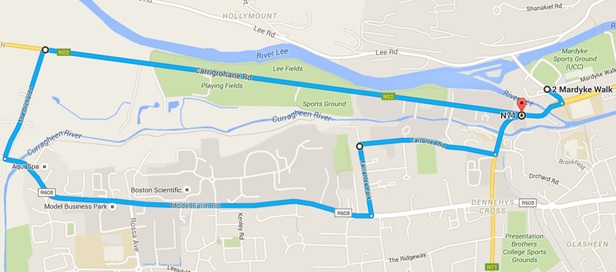 This is an unstructured run suitable for all levels from Fit4Life enthusiasts to seasoned runners. Everybody sets off at their own pace and nobody gets left behind. So, why not give us a test drive! Come along to the barrier at the top of Mardyke Walk and ask for the person in charge. Members assemble at the barrier from 6pm to conduct warm-up exercises. If you want to join St. Finbarr's A.C., you'll find an entry form on the Join page.
At 6.15pm, we head off on the first 6km circuit.  After one circuit, we'll pause at the pink marker and wait for people to catch up (another chance to exercise). At this point, you can opt for a second lap or return to the Mardyke. If you miss the start, you can attempt to catch up with the back markers or go around in the opposite (clockwise) direction to join up the main group.
Wednesdays, 6pm
UCC Mardyke Track: interval and speed work session with Eamonn McEvoy and Marion Lyons.
Fridays, 6pm
UCC Mardyke Track: tempo sessions with Ken Devine.
If you are interested in joining, why not come along for a test drive! We'll be more than happy to answer any queries and offer you advice. Otherwise , please contact Dan Kennedy (0872136827) for more information.