Monday Road Sessions Resume from 17th May 2021
Assemble at the top (West) end of Mardyke Walk as per the map below. For location information, paste coordinates 51.893954N, 8.502560W into your Google Maps search box and hit enter.
This session involves one or two 6km circuits of the Carrigrohane Road and Model Farm Road. There is also the option of a few hill repeats after the 6km loop.
All those attending the Monday evening Road session MUST wear a high visibility vest and we strongly recommend light colored clothing.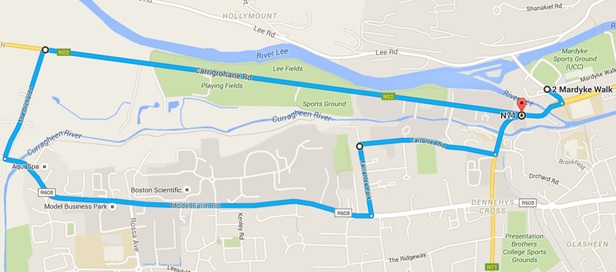 This is an unstructured run suitable for all levels new to seasoned runners. Everybody sets off at their own pace and nobody gets left behind.
Come along to the barrier at the top of Mardyke Walk and ask for the person in charge. Members assemble at the barrier just before 18:15 to conduct warm-up exercises.
At 18:15 we head off on the first 6km circuit. After one circuit, we'll pause at the pink marker and wait for people to catch up (another chance for stretches).
At this point, you can opt for a second lap or return to the Mardyke.
Adhere to social distancing guidelines while at the meeting point.
High-visibility vests essential
The coach for the evening will give clear instructions as to the route.
Safe Return to Training Checklist
All members should review the following checklist before resuming training sessions:
Before
Ensure that you remain up to date with official COVID-19 information.
All attendees should, in advance of attending each session, complete Covid Health Screening Questionnaire which acts as a contact tracing form also.
Ensure that you are following all advice and guidance issued by your National Governing Body of Sport or relevant representative body
Please do not to carpool, wait in your car or outside the venue until just before the beginning of a practice, warm-up, or game, instead of congregating with others prior to starting.
Meet no earlier than 5 minutes before training at specific meeting area.
There is no use of shared spaces such as changing rooms, locker rooms, showers permitted.
Access to the Mardyke Pavilion is for use of toilets and emergency medical assistance only.
Sanitise your hands before entering the sports grounds.
During
Maintain social distancing of 2 metres between individuals where possible.
Stay within the small group of runners you are assigned to by your coach.
No spitting or clearing the nose in the presence of others.
Cover your nose and mouth with your elbow when coughing or sneezing, or using a tissue where possible which is immediately disposed of.
No unnecessary physical contact, such as high fives, handshakes, fist bumps, elbow taps, hugs or huddles.
After
Wash/Sanitise your hands
Maintain social distancing outside the sports grounds and do not congregate in groups post session.